How to Choose the Ideal Expense Management Software: Requirements and Features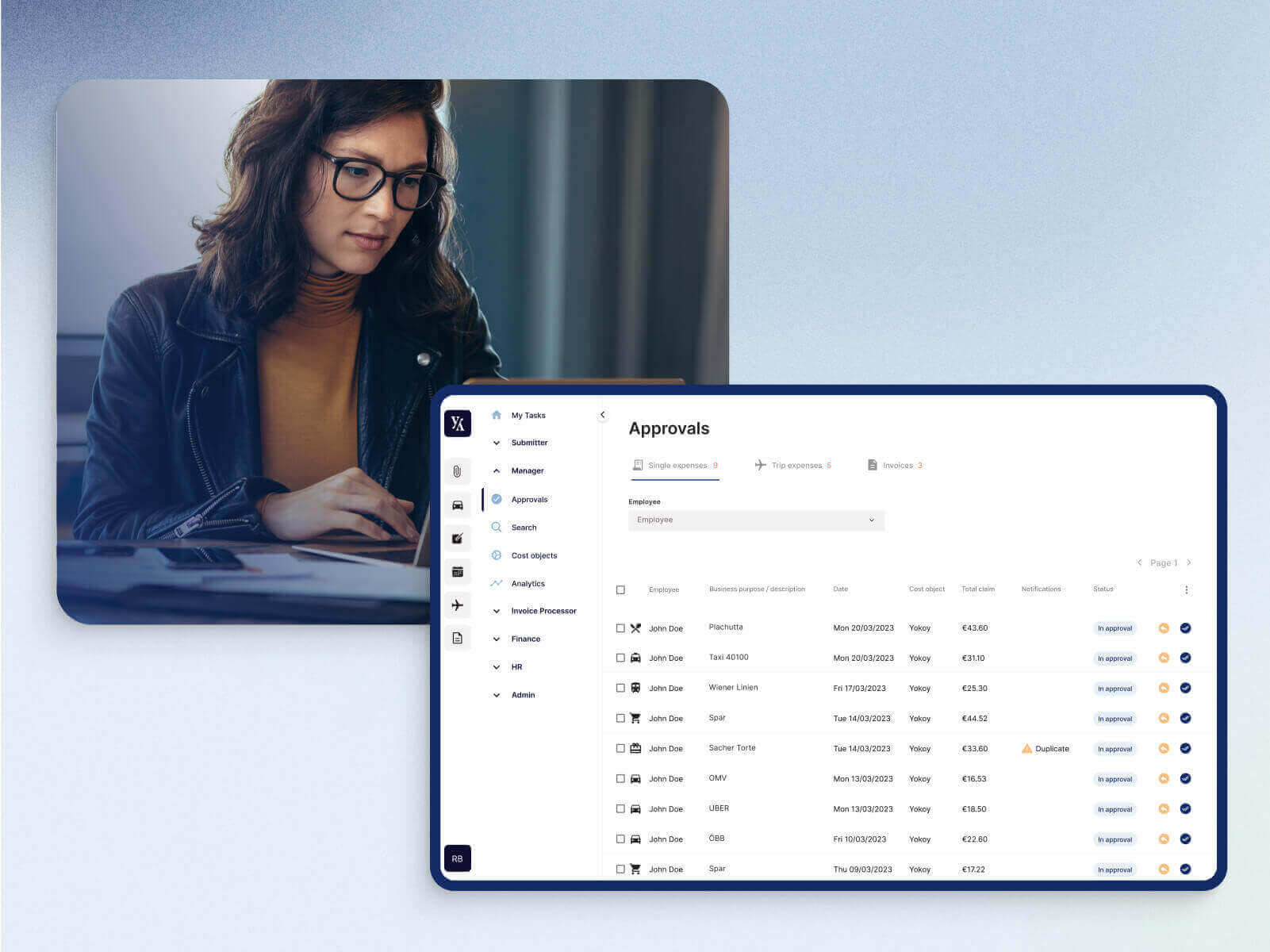 Expense management software has become a critical tool for companies looking to streamline their financial operations, reduce costs, and gain greater control over their spending.
But choosing the appropriate expense automation software requires a nuanced understanding of an organization's unique requirements, as there's no out-of-the-box solution that matches the needs and business goals of all companies, from midsize organizations to large enterprises and global corporations.
This article will explore the key considerations for companies in selecting the optimal expense processing solution, highlighting how the right software can deliver enhanced efficiency and cost savings.
Differences between the needs of midsize, large, and global enterprises
Before we dive into the topic, there's one crucial aspect that should not be neglected.
As a best practice, organizations looking to scale and expand their presence to multiple markets should look for an expense automation tool that is part of an end-to-end spend management solution.
Why?
Because expense processing can't happen in a vacuum.
While in small businesses a standalone accounting software might be enough, in growing companies and established global enterprises, the expense management software needs to integrate seamlessly with other systems such as procurement, accounts payable, and travel management to provide a comprehensive view of business spend across the organization.
Thus, to improve their financial control and mitigate risks, finance teams in midsize to large companies and global enterprises need to take a holistic approach to spend management and invest in integrated solutions that bring together the expenses, invoices, and corporate card payments.
I've covered the topic extensively in the webinar below.
The CFO's Blueprint for Spend Management Transformation
Learn how to get a holistic view of your spend management process to easily identify inefficiencies, streamline operations by removing system and data silos, and user real-time insights to eliminate risks, control costs, and plan ahead.
Lars Mangelsdorf,
CCO at Yokoy
Expense management software for midsize companies
For midsize companies looking for expense automation solutions, pricing is a major consideration point in the selection process.
The software fees, as well as the implementation and training costs, can tip the balance in favor of one vendor or another. However, what midsize companies shouldn't overlook is the potential return on investment (ROI) of the chosen solution.
The right software will help midsize companies improve their process efficiency by eliminating manual tasks, errors, and duplicate payments, saving them both time and money.
Thus, it's safe to say that midsize companies should choose an expense automation tool that helps them streamline their travel and expense management processes, from receipt management to business travel expenses, and fits within their budget without compromising on features or functionality.
To sum it up, the main characteristics midsize companies look for in an expense management software are:
Affordability,

Ease of use, and

Scalability through integrations
I'll detail each of these characteristics in the second part of this article.
Expense management platforms for large companies
Large companies are typically characterized by a complex organizational structure, with multiple departments that often operate independently. They also have a large number of employees who travel frequently and generate a high volume of business expenses.
Due to their size and complexity, large enterprises require a robust and flexible expense automation software solution that can not only automate the time-consuming expense process, but also ensure compliance with company policy and full visibility and control over employee spending.
From my experience working with large companies in various industry, the top considerations for this segment are:
Automation capabilities,

Flexibility through customization options,

Scalability through integrations, and

Advanced security features
I'll get back to these in the second part of this article.
By bringing expenses, invoices, and card payments into one central platform, AI-powered spend management software such as Yokoy can support these objectives, as it helps drive standardization and automate manual processes for operational efficiency, as well as improve spend visibility and control across departments and geographies.
So let's take a look at the key features of spend management solutions that can support these goals.
Expense management solutions for global enterprises
Finally, a large global enterprise is a company with operations and business interests in multiple countries or regions. These companies operate in a complex and dynamic business environment, with unique challenges such as managing different currencies, languages, and regulations.
For global enterprises, managing expenses can be particularly challenging due to the sheer volume of transactions, the unique challenges of global tax compliance, and the complexity of their approval workflows.
Tasks like tracking employee expenses, managing expense claims, and processing employee reimbursements in a timely manner, are a lot more complicated in a global enterprise than they are in a midsize company with local subsidiaries only. Finally, global enterprises need to ensure compliance with international regulations.
Thus, when looking for expense automation software, global enterprises should prioritize solutions that help them:
Streamline processes by removing system and silos,

Enforce compliance with internal and external policies, and

Gain end-to-end visibility into their spending patterns
So now that we've covered some of the differences, let's look at the commonalities between the top expense management platforms out there.
The Future of Travel and Expense Management
After massive slumps caused by the pandemic, business travel is finally recovering. However, macroeconomic challenges are slowing the catch-up effect, forcing finance and travel leaders to cut costs by limiting business trips.
How can companies adapt? 
What top expense management software solutions have in common
1. Decrease process costs by improving efficiency
According to Aberdeen Research, companies that automate their expense management process save an average of $20 per expense report.
This may not sound like much, but the average midsize company processes around 300-500 expense reports per month. Multiply that by 12, and you can see how these small process costs add up to $120.000/year.
Of course, the number of expense reports processed by an organization per month can vary widely based on factors such as industry, business model, and size of the company. Moreover, this number can increase significantly if the company operates in an industry with high travel and entertainment expenses, such as consulting or sales.
We've covered the topic of savings through spend management automation in the article below. 
The ROI of Finance Transformation
Learn how to calculate, communicate, and maximize your returns when undergoing a digital transformation project.
Stephan Hebenstreit, 
Managing Director Austria, Yokoy
2. Ensure adoption through ease of use
One of the most critical factors for the success of an expense automation software implementation is employee adoption.
Software that isn't used ends up being a bad investment, so finance teams should opt for cloud-based tools that are intuitive and easy to use, including on mobile. Legacy solutions tend to neglect the UX aspect, so it's no surprise that non-user-friendly tools see low usage rates.
Why is adoption such an important topic?
Because finance teams often need to prove the ROI of digitalization or transformation projects, and when employees choose to work around a tool instead of using it, it leads to disjointed processes and ways of working and a lack of compliance with company expense policies.
To address this challenge, expense automation software should be designed with usability in mind, offering an intuitive user interface and streamlined workflows that make it easy for non-technical users to submit and track expenses, check approvals, and manage receipts. 
Ideally, the solution should provide both a desktop and a mobile app, and should make it easy for companies to issue virtual cards, especially if business travel is frequent. 
3. Improve compliance through policy enforcement
Companies with automated expense management systems are 2.5 times more likely to be in full compliance with their travel and expense policies.
By setting up expense automation software to automatically enforce policies, organizations can reduce the risk of policy violations, identify non-compliant transactions in real-time, and make more informed decisions about expense approvals.
For example, the software can be configured to flag any expenses that exceed predefined limits or are not aligned with company policies, such as meals that exceed a certain amount or expenses from unauthorized vendors.
Moreover, automated policy enforcement can help companies to improve their financial control environment by minimizing the risk of fraud, errors, and abuse.
As mentioned a bit earlier, large and global enterprises need software that is compliant with local tax regulations in each country where they operate. This includes the ability to handle local taxes and currencies, and to provide local language support.
We've covered the topic of compliance in the article below. 
Maximizing Compliance through Automated Expense Reporting
Automated expense reporting has been gaining traction as a solution to help finance teams streamline their workflows and gain real-time insights into company expenses. But there's one more area where automation can help tremendously: Staying compliant.
Lars Mangelsdorf, 
Co-founder and CCO, Yokoy
4. Integrate with accounting and ERP systems to avoid data silos
Integration capabilities are critical when selecting an expense automation software. Integrating the expense management system with other financial systems, such as accounting or ERP software, can reduce manual data entry, and minimize errors associated with manual processes.
This can result in significant time savings and cost reductions, as well as increased accuracy and reliability of financial data. Ultimately, integration capabilities can help companies to streamline their processes and improve the overall efficiency of their financial operations by removing data and system silos.
A quick note here though: Integration enables data to be shared seamlessly across systems, but not all integrations are created equal.
There are plenty of legacy tools out there that are very hard to connect to, and require finance teams to use custom file formats or additional in-house solutions just to transfer data between platforms.
My recommendation is for companies to choose software that offers solid integrations with the biggest ERP systems, as well as open API capabilities for easy connection to other tools in the financial tech stack.
5. Simplify the expense reporting process
Regardless of a company's size, the increasing need for real-time data and insights makes it mandatory for expense management solutions to provide robust reporting and analytics capabilities.
Without real-time analytics and reporting, finance teams are forced to work reactively. And while this may not be a big problem in small businesses, for midsize and large enterprises, not having real-time insights into card transactions for example can lead to serious breaches in policy compliance, as well as overspending.
Ideally, an expense automation solution should enable businesses to create reports and visualizations that provide insights into spending patterns and highlight areas where they can make improvements.
To give just one example, companies should be able to use expense processing software to identify categories where they are overspending or employees who are submitting non-compliant expenses.
On processes 10k expenses monthly with Yokoy
"Yokoy has played a pivotal role in revolutionizing our expense management as we experience rapid global growth. The automation rate of nearly 90% is impressive, allowing us to handle a vast number of expenses with ease."
Christoph Kühne, Group Finance, On
6. Scale up or down based on business requirements
Next on the list is the need for software that can grow with them as their business expands.
As they scale up, companies may need additional features, such as multi-currency support, mobile access, custom pre-approval workflows, and integration with other systems such as VAT reclaim tools, travel management systems, procurement systems, and so on.
Thus, it's important for finance leaders to keep this criterion in mind from the beginning, and select software that is flexible and can accommodate their changing needs over time. This will enable them to expand their operations without increasing headcount, and while maintaining full control over their expenses.
7. Provide extensive customization and configuration options
One of the most critical needs for large enterprises in expense automation software is the ability to handle complex approval workflows. Large enterprises often have multiple layers of approval, with different levels of authority required for different types of expenses.
That's why the top expense and spend management solutions are able to handle complex workflows, routing expense reports to the appropriate approvers based on pre-defined rules and policies.
Moreover, the best solutions on the market provide real-time visibility into the approval process, enabling finance leaders to track the progress of each expense report and identify bottlenecks or delays.
8. Advanced security features
In today's digital age, security is a top priority for all types of organizations, particularly large enterprises that handle massive amounts of sensitive financial data.
One critical security feature that enterprise-level expense automation software should provide is multi-factor authentication. This feature requires users to provide multiple pieces of evidence to prove their identity before accessing the system, making it harder for hackers or unauthorized personnel to gain access.
Then, another important functionality is role-based access controls, which enables administrators to define specific access permissions for different users based on their roles and responsibilities within the organization. This way, users only have access to the data and functionalities they need to do their job, and sensitive financial data is kept out of the hands of those who do not require it.
Data encryption is also crucial for securing sensitive financial data. Overall, selecting the right expense automation software with advanced security features is crucial for large enterprises to safeguard their financial data, protect their reputation, and comply with regulatory requirements.
Best expense management software for global enterprises
Now that you know what to look for in an expense management tool, let's see some recommendations that fit the needs of global enterprises. 
We'll start with our own expense management solution, as the Yokoy suite is designed to automate the entire spend management process, from receipt capture and expense submission to expense reimbursement and booking into your ERP system.
Yokoy's main differentiators are the AI backbone and the integration of smart company cards, which act as a powerful connector between the expense and the invoice management modules.
The in-house AI technology makes it possible to automate not just the steps of the travel and expense process, but the logic as well, which means that finance teams can automate up to 90% of their day-to-day tasks, and free up time for more strategic work.
DO & CO tracks expenses in real time with Yokoy
"Yokoy's integrated corporate credit card solution played a pivotal role in our decision-making process. The seamless data transfer streamlines expense tracking, minimizing manual efforts and significantly enhancing efficiency."
Johannes Echeverria, CFO at DO & CO
To name just a few of the platform's capabilities:
Receipt scanning and data extraction – Yokoy's OCR can read receipts in paper and digital format and the AI can handle both structured and unstructured data, as well as multiple languages and currencies.

Transaction matching – Thanks to the integration of smart corporate cards, Yokoy can match credit card transactions with expenses in real time, for fully automated expense tracking and reporting.

Duplicate and exception handling – Yokoy's AI detects duplicates and policy breaches in real time and sends notifications to submitters before the expense reports are sent for approval. This drastically reduces the amount of expense fraud, errors, and rework needed, keeping the expense process compliant.

Customizable workflows and approval flows – Yokoy enables finance teams to create complex approval flows, with multiple levels, to accommodate the hierarchies and governance needs typical for global enterprises with multiple entities across geographies.

Automated bookkeeping – The platform syncs with ERP systems and travel management systems in real time, through API integrations or custom connectors. This means that all the expense data is visible in real time and there's one single source of truth.

Automated audit trails – Yokoy stores all documents in digital format, fully automating the expense reporting and the audit trails. The finance teams can easily see all transactions, including details like the category, date, amount, submitter, approver, and so on. With this capability, financial reporting is simplified and the process is audit-proof.

Automated mileage and per diem calculations – Yokoy's AI does all the calculations for you, automatically updating the settings for per diems, mileage allowance, and VAT rates in the background. This keeps you up to date with rules and regulations and ensures a compliant T&E process across countries.
If you'd like to see the Yokoy suite in action, you can book a demo below.
Bring your expenses, supplier invoices, and corporate card payments into one fully integrated platform, powered by AI technology.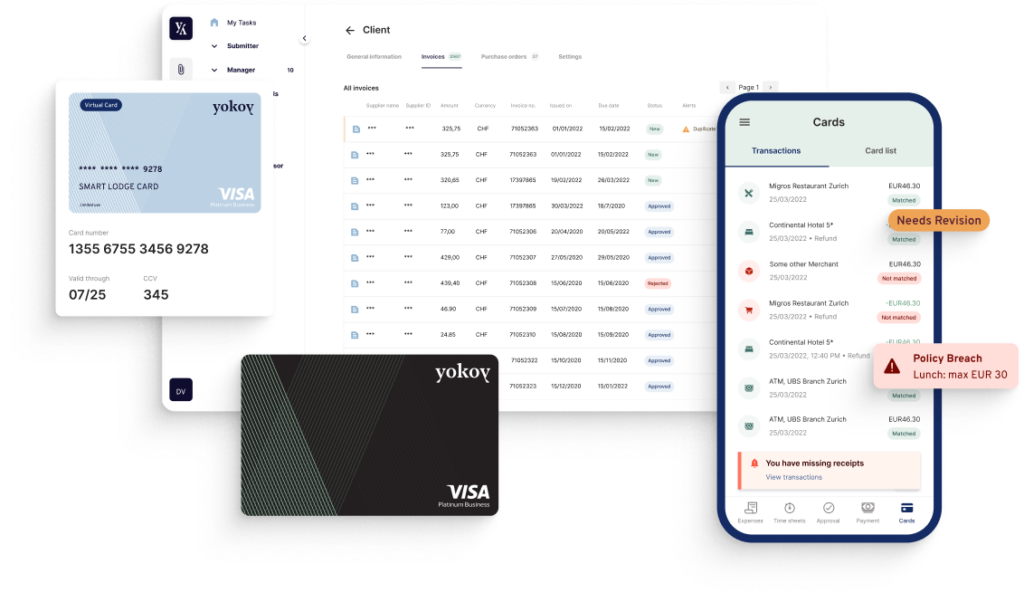 Emburse's expense reporting software serves growing companies, and offers virtual and physical credit cards as well. 
Their product offering includes modules like Captio for expesne management for mid-size and large companies in Europe, Spend for spend management in growing teams, and Go for travel management in large global enterprises.
Spendesk aims to streamline the expense management process with solutions like smart payment methods and expense reporting features. It allows finance teams to set spending limits, monitor budgets, and track and reconcile expenses and card transactions in real time. 
To fit the needs of large companies, it offers centralized control with decentralized spending, and a scalable solution design.
Expensify's solution offers similar features, and they focus on industries such as Construction, Real estate, Non profit, Schools and universities, and Startups. 
For managing travel expenses, the Expensify Travel module is required. Expensify integrates with ERPs like Quickbooks, Oracle Netsuite, Sage, Xero, and Microsoft Dynamics.
Concur Expense automates expense management to put an end to lost receipts and manual expense reporting. The tool enables employees to capture receipts and submit expense claims on the go, while allowing for fast reimbursements. 
Concur centralizes the expenses in one place, and makes it easy to enforce and change spending policies. It's designed for global companies, and integrates with SAP's Travel module for easier travel management.
Travel and Expense Management Software: Switching From SAP Concur to Yokoy
What makes Yokoy different from SAP Concur? Here's a breakdown of our most important differentiators, to help you when buying travel expense software.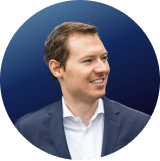 Philippe Sahli, 
Co-founder & CEO 
To conclude, while midsize companies may prioritize affordability, ease of use, and integration capabilities, large enterprises require advanced security features, customization options, and scalability to meet their unique needs.
Ultimately, best practices for choosing the right software involve balancing functionality, cost, and security requirements, and prioritizing a solution that can meet both current and future needs.
My recommendation is for companies to take a holistic approach and look for an all-in-one solution that meets their requirements not only for expense management, but for spend management as whole.
If you'd like to see what makes Yokoy different and how it can support your finance team, you can book a demo below. 
Streamline your travel and expense management
Say goodbye to manual data entry, lost receipts, and complicated reimbursements. Yokoy handles everything from start to finish, for simple T&E management at any scale.
Simplify your spend management
If you enjoyed this article, you might find the resources below useful.