Streamline your travel and expense management
Say goodbye to manual data entry, lost receipts, and complicated reimbursements. Yokoy handles everything from start to finish, for simple T&E management at any scale.
Trip expenses, fully automated
Manage travel bookings, per diems, and on-trip expenses in one central platform.
Integrate Yokoy with your travel provider and pay for all your travel bookings securely with the Yokoy Smart Lodge Card.
Automated travel allowances
Automatically create travel allowances for both mileage and daily rates, based on trip itinerary, country regulations, and company policy.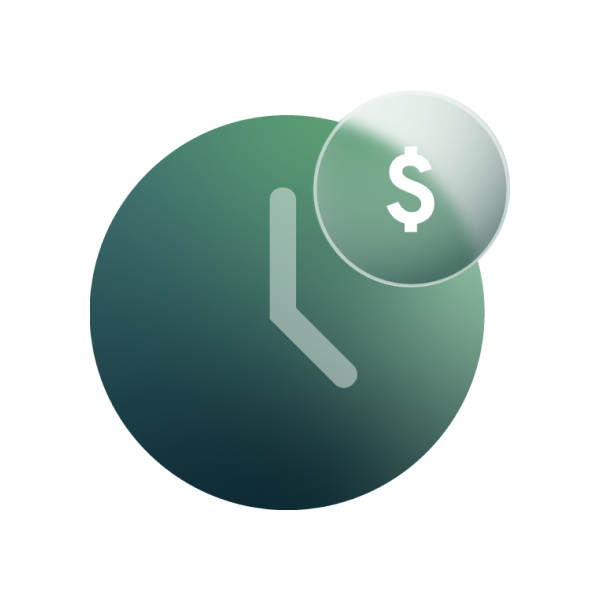 Keep your employees happy and ensure timely reimbursements with automated reconciliation and approval flows.
End-to-end travel integration​
Remove the hassle of managing multiple cards or reconciling business expenses manually by fully centralizing and automating your travel payments. Yokoy integrates with your travel provider, for seamless travel and expense management.
Modern, intuitive design​​​
Reduce the time spent uploading expenses. With Yokoy, employees capture expenses by taking a photo of a receipt directly with the mobile app. Yokoy's intuitive, user-friendly design ensures the same seamless user experience on desktop and mobile, for admins and employees alike.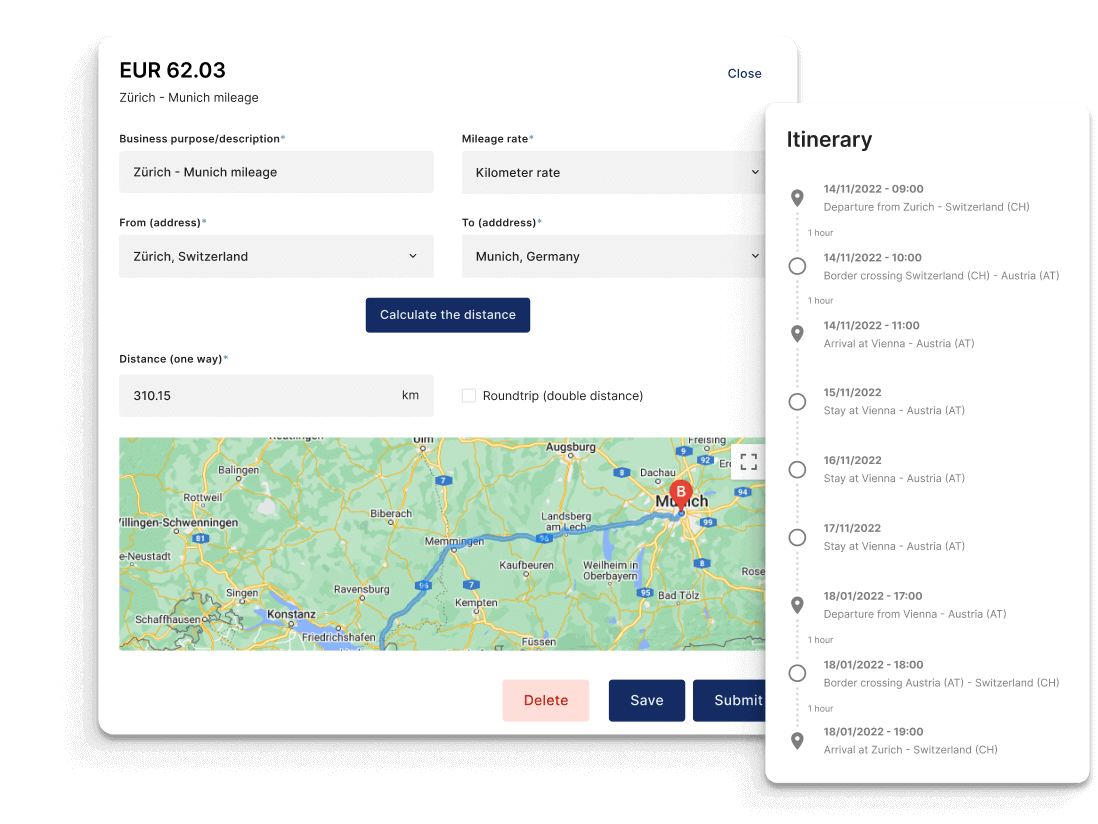 Automated mileage tracking​
Put your corporate travel management on autopilot and let AI calculate mileage expenses for you. Employees fill in the starting point and destination -Yokoy does the rest.
Automated per diem calculation
Issue country-specific per diems automatically to meet the requirements of your legal entities. Yokoy supports requirements such as the 3-month rule or midnight rule.
On processes nearly 90% of their expenses automatically
"Yokoy has played a pivotal role in revolutionizing our expense management as we experience rapid global growth. The automation rate of nearly 90% is impressive, allowing us to handle a vast number of expenses with ease."
Christoph Kühne, Group Finance, On
Configure entity specific, conditional expense form fields if you need to capture non-standard travel and expense data. Yokoy provides multiple customization options, so you can optimize the employee expense reporting process.
Enforce your travel policy by paying for all pre-trip bookings and on-trip expenses with Yokoy's smart corporate cards and Smart Lodge Card. Yokoy enables real-time transaction matching and reconciliation, for easy reporting.
Keep employee spending under control, prevent fraud with real-time spend controls, and go granular with individual card spend limits. Yokoy flags policy breaches automatically and enforces compliance through built-in checks. 
Planted keeps spend under control with Yokoy
"A corporate card should be secure and uncomplicated – and this is exactly what the Yokoy Mastercard offers. In addition, the card is smart, saving us significant time."
Christoph Jenny, Co-founder Planted
Fully automated reimbursements
Simplify your reimbursement process by fully automating the approval of expenses that fit within certain spend thresholds. If you want to tighten your spend control, you can always add additional approval steps in the workflows. 
Effortlessly enforce your travel and expense policies with Yokoy's built-in compliance capabilities. Create custom workflows and approval flows to automatically approve expense claims, and detect policy breaches in real time to prevent fraudulent expense reimbursements.
Enver Sirucic
CFO BAWAG Group
"Yokoy stands out as a visionary company that offers a truly unique solution. Their customer success team has played a pivotal role in automating our spend management processes."
Christoph Kühne
Group Finance, On
"Yokoy has played a pivotal role in revolutionizing our expense management as we experience rapid global growth. The automation rate of nearly 90% is impressive, allowing us to handle a vast number of expenses with ease and export them within a day."
Christoph Jenny
Co-founder, Planted
"A corporate card should be secure and uncomplicated - and this is exactly what the Yokoy Mastercard offers. In addition, the card is smart, saving us significant time."
Marianne Schluep
Head of Finance and Accounting, Fenaco
"With Yokoy, we have opted for a uniform and group-wide expense management solution that unifies our different expense processes on one platform and automates them across organizations. This guarantees company-wide compliance and increased efficiency."
Michael Kultscher-Burger
Teamlead Accounts Payable & Receivable, DO & CO
"One unified process for the entire DO & CO Group. Yokoy enables us to collaborate optimally across all locations and entities."
Peter Grausgruber
Former CFO, Bitpanda
"For the long term, we are interested in an all-in-one solution that covers all spend processes in the company. With Yokoy, we have the perfect solution for that."
Mirko Brudermann
CFO, FC Basel
"The expense process before Yokoy was extremely laborious. It's great to have a solution with which we can record and submit expenses anytime and anywhere."
Tania Thiebach
Former CFO, Sherpany
"Before Yokoy, our expense process was mostly manual and time consuming. Now, we've standardized and streamlined it. The AI magic is truly doing most of the work."
Vivian Mohr
Former CFO, Comparis
"Yokoy is very easy to use, which saves us time and makes it efficient. The connection to the ERP works smoothly and provides real-time data for credit card transactions."
Benjamin Kasumi
SAP Consultant, Bawag
"With their guidance and automation capabilities, we streamlined our finance processes, resulting in a remarkable 70% faster book closure. Yokoy has truly transformed our financial management, and we couldn't be happier with the results."
Ebru Arican
Former Head of Group Controlling & Accounting, Ameropa
"We were impressed by Yokoy's ease of use and seamless integration with our credit card provider."
Herbert Sablotny
CFO, Beekeeper
"We had an aha-moment when we realized that with Yokoy it only takes a few seconds to create a report compared to the many hours in the past."
Rafael Saya
Senior Finance Manager, ITA
"Before, when a receipt was missing, our Finance team had to chase after it. Now, it's Yokoy doing it automatically - pre-filling all the information with high accuracy."
Nilgün Kilit
Former Team Lead Accounting and Patient Billing, Bellikon Rehabilitation Clinic
"We had the Yokoy software demonstrated to us and it was clear that we had to have it. This is how software has to be today, as intuitive as a smartphone app."
Marcel P. de Boni
Managing Director, ECOVIS
"We've tested other expense tools before, but Yokoy represents a new level of automation thanks to the tool's artificial intelligence and well-designed interface."
One card for all your
travel bookings
Securely pay for flights, rail, hotels*, and travel services with one central Smart Lodge Card, fully integrated with your travel management provider. No transaction fees, no foreign exchange fees, no card fees*.
Get to know our spend management solution.
Eliminate manual work from your T&E and AP processes. Yokoy's AI captures, extracts, validates, and approves employee expense and supplier invoices automatically.
Improve efficiency with AI automation and streamline operations by bringing all your processes into one central platform, fully integrated into your tech stack.
Map out your end-to-end approval workflows, customize them per entity, and define how exceptions should be handled, to reach full spend management automation.
Prevent overspending and fraud and ensure compliance with company policies and country-specific regulations through built-in rules and pre-approval flows.
Track expenses as they happen, extract spending patterns and insights from your analytics dashboards, and gain real-time visibility into your spending for accurate forecasts.
Detect errors and fraud with ease and ensure accurate audit trails by safely storing all your expense receipts, card transaction history, and vendor invoices in the Yokoy platform.
Streamline complex AP and T&E processes across entities and subsidiaries, and standardize your workflows for increased efficiency and control with a central spend management platform. 
World-class service and support
Get answers to your questions right away, troubleshoot issues with help from our experts, and improve your knowledge with in-depth live and self-guided Academy trainings.
Streamline your
IT landscape
Yokoy's API facilitates seamless integrations with enterprise-level systems for end-to-end automation across entities and geographies.
Stay safe, with the highest security standards​
Yokoy is engineered for security and committed to information protection. We are ISO 9001, ISO 14001, and ISO 27001 certified, and GoBD and GDPR compliant.
Simplify your spend management
See how we contribute to our customers' success stories.
With 75% of all DO & CO's expenses being paid with smart corporate cards, the expense management process is fully automated, saving 750 working hours in manual processes.
Read the success story of BAWAG Group AG's journey towards automated expense management using Yokoy's innovative AI technology.
Buhler needed a digital solution to streamline their spend management process across global entities. With Yokoy, they achieved 4.7x ROI, processing 46.7% of their expenses within 24 hours.
Frequently asked questions
Gain full visibility and control over your business spend with AI-powered automation.