Invoice Automation Software Requirements: Must-Have Features for Global Enterprises
Invoice automation software can either greatly enhance or seriously hinder your Accounts Payable (AP) process. Its capabilities can either make or break the efficiency, control, and visibility you strive for in your financial operations.
In this article, we'll delve into the specific requirements that finance professionals in global enterprises must consider when selecting accounts payable automation software. Making the right choice is paramount, as it can either be a game-changer or a potential roadblock in your AP journey.
Scalability and integration
Requirement
Global enterprises often have complex financial ecosystems with multiple ERPs, accounting systems, and document management platforms. Your invoice automation software should seamlessly integrate with these systems to ensure a smooth and efficient AP workflow.
API integration capabilities: Ensure that the software provides robust Application Programming Interface (API) integration options. This allows for easy connectivity with various ERP systems, accounting software, and document management platforms, reducing data silos, enhancing data flow, and freeing up time for your AP team.
Compatibility with leading ERPs: Look for compatibility with popular ERP systems such as SAP, Oracle, or Microsoft Dynamics, as this ensures a higher degree of interoperability within your existing financial infrastructure.
Automated data synchronization: Choose software that offers automated data synchronization, allowing real-time data updates across all integrated systems, eliminating manual data entry, and reducing the risk of data inconsistencies. This is crucial for ensuring end-to-end visibility into your business spend across geographies and entities.
DO & CO standardized their global spend management with Yokoy
"One unified process for the entire DO & CO Group. Yokoy enables us to collaborate optimally across all locations and entities."
Michael Kultscher-Burger, Teamlead Accounts Payable & Receivable
Multilingual and multi-currency support
Requirement
In a global business landscape, invoices can arrive in various languages and currencies. Your software must be capable of automatically recognizing and processing invoices in different languages and currencies, reducing the risk of errors and delays.
Language detection: Seek AP automation software equipped with advanced language recognition algorithms that can recognize different invoice formats and identify the language of the invoice, enabling accurate extraction and processing of text regardless of the language used.
Currency conversion: Look for a system that can automatically convert currencies at current exchange rates, ensuring accurate financial reporting and compliance with international accounting standards.
Language translation: Consider software that offers in-app translation features, allowing users to view invoices in their preferred language, facilitating efficient review and approval processes for multinational teams.
 
Join 12'000+ finance professionals and get the latest insights on spend management and the transformation of finance directly in your inbox. 
AI-powered data extraction
Requirement
Modern invoice automation software leverages AI and machine learning to extract critical data from invoices accurately. Look for software that can extract information such as invoice numbers, dates, line items, and tax details with a high degree of accuracy.
Machine learning and OCR technology: Seek software that employs machine learning algorithms to continuously improve data extraction accuracy over time by learning from past vendor invoice data. Optical Character Recognition (OCR) technology should be at the core of the software, enabling the accurate extraction of text from scanned or digital invoices. This ensures automated data capture and eliminates manual work from the first phase of the AP process.
Invoice Capture Solutions: From Manual Processing to OCR and AI Technology
Unlock the power of invoice capture methods in finance, transitioning from manual processing to advanced Invoice OCR and AI technology.
Andreea Macoveiciuc,
Growth Marketing Manager
Line item recognition: Ensure that the AP automation solution of choice can accurately identify and extract line items, quantities, unit prices, and total amounts from invoices, reducing manual data entry and potential errors. For this, you will need more than OCR. The software should be equipped with artificial intelligence that can understand unstructured data and structure it for further processing.
Automated e-invoice processing: Seek software that automates not only the paper invoice capture but also the processing of e-invoices, including validation, matching, and approval, ensuring a seamless transition from traditional paper-based invoices to digital formats. This enables you to fully automate your invoice management process.
Tax calculation: Look for software that can automatically calculate taxes based on extracted data, ensuring compliance with tax regulations and reducing the risk of overpayments or underpayments.
Reclaim VAT Automatically: How Yokoy Uses AI to Simplify VAT Recovery
Reclaiming foreign VAT (Value Added Tax) is something that's usually complicated and a manual task. Read here how Yokoy automates VAT recovery with AI.
Vishnuram Muthuraman,
Product Marketing Manager
Purchase order integration
Requirement
Many organizations use purchase orders to control and authorize spending. Your invoice automation software should seamlessly integrate with your PO system to ensure that invoices are matched with the corresponding purchase orders for accuracy and compliance. This requirement is important for global enterprises especially if you process a mix of non-PO and PO invoices.
PO matching: Seek software that can automatically match invoices to purchase orders based on key data points such as invoice and PO numbers, quantities, and prices. This feature helps prevent discrepancies and errors in the payment process.
Three-way matching: Consider an invoice automation tool that supports three-way matching, which involves comparing the invoice, PO, and receipt of goods to ensure that all elements align before processing payment. This reduces the risk of overpayments and fraud.
How to Use Invoice Matching Technology to Improve Your Process Efficiency
See how invoice matching technology automates the 2- and 3-way matching of supplier invoices with POs and goods receipts, for an efficient AP process.
Mauro Spadaro, 
Product Manager
Duplicate payment prevention
Requirement
Preventing duplicate payments is critical to maintaining financial accuracy and integrity. Your software should have mechanisms in place to identify and prevent duplicate invoices from being paid.
Duplicate invoice detection: Choose software that utilizes advanced algorithms to detect duplicate invoices, even if they have subtle variations, such as different invoice numbers or dates.
Alerts and notifications: Look for a system that can generate alerts and notifications when a potential duplicate invoice is detected, allowing your finance team to review and resolve the issue before payment.
Requirement
Efficient workflow automation is a game-changer for global enterprises. Ensure that your software can automate approval workflows, route invoices for review, and trigger payments based on predefined rules and policies.
Rule-based automation: Seek an accounts payable automation solution that supports both artificial intelligence-based automation and rule-based automation, enabling you to define and implement rules and policies for invoice processing. For example, you can set rules to automatically approve invoices below a certain threshold, streamlining low-value transactions.
Automatic routing and escalation capabilities: Ensure that the software can automatically route invoices to the appropriate individuals or departments for review and invoice approval based on predefined criteria, such as invoice amount, vendor, or expense category. Look for escalation mechanisms that trigger notifications or route invoices to higher authorities in case of exceptions or delays, ensuring that critical invoices are addressed promptly.
Customizable workflows and approval flows: Look for an invoice automation solution that allows you to create and customize workflow templates to match your organization's specific approval processes. This flexibility ensures that the software aligns seamlessly with your business needs.
How to Automate Your Invoice Approval Workflows with Yokoy
A well-structured invoice approval workflow ensures accuracy, compliance, and transparency in the payment process. Here's how Yokoy can help.
Mauro Spadaro, 
Product Manager
Compliance and audit trails
Requirement
Compliance is crucial, especially for global companies dealing with regulatory requirements in different regions. Choose software that provides comprehensive audit trails and ensures compliance with tax regulations and internal policies.
Detailed audit logs: Opt for accounts payable automation software that maintains detailed audit logs of all invoice-related activities, including who accessed, reviewed, and approved invoices, as well as any changes made to invoice data. These logs provide a transparent record for compliance purposes.
Version control: Ensure that the software offers version control for invoices, allowing you to track changes made to invoice details over time. This feature is invaluable during audits to verify the accuracy and integrity of financial data.
How to Ensure Regulatory Compliance With Automated Audit Trails
Learn how to get started with automated audit trails for monitoring financial transactions, detecting anomalies and ensuring compliance to internal controls and external regulations.
Lars Mangelsdorf, 
Co-founder and CCO
Compliance reporting: Look for reporting capabilities that generate compliance reports, highlighting areas where the software ensures adherence to tax regulations and internal policies. These reports facilitate compliance assessments and audits.
Automated compliance checks: Seek software that can automatically perform compliance checks on invoices, flagging any discrepancies or violations of tax regulations or internal policies. This proactive approach helps prevent compliance issues before they escalate.
Stay up-to-date with rules and regulations around per diem rates, mileage allowances, proof of receipt, and VAT rates, while Yokoy keeps you audit-ready across countries.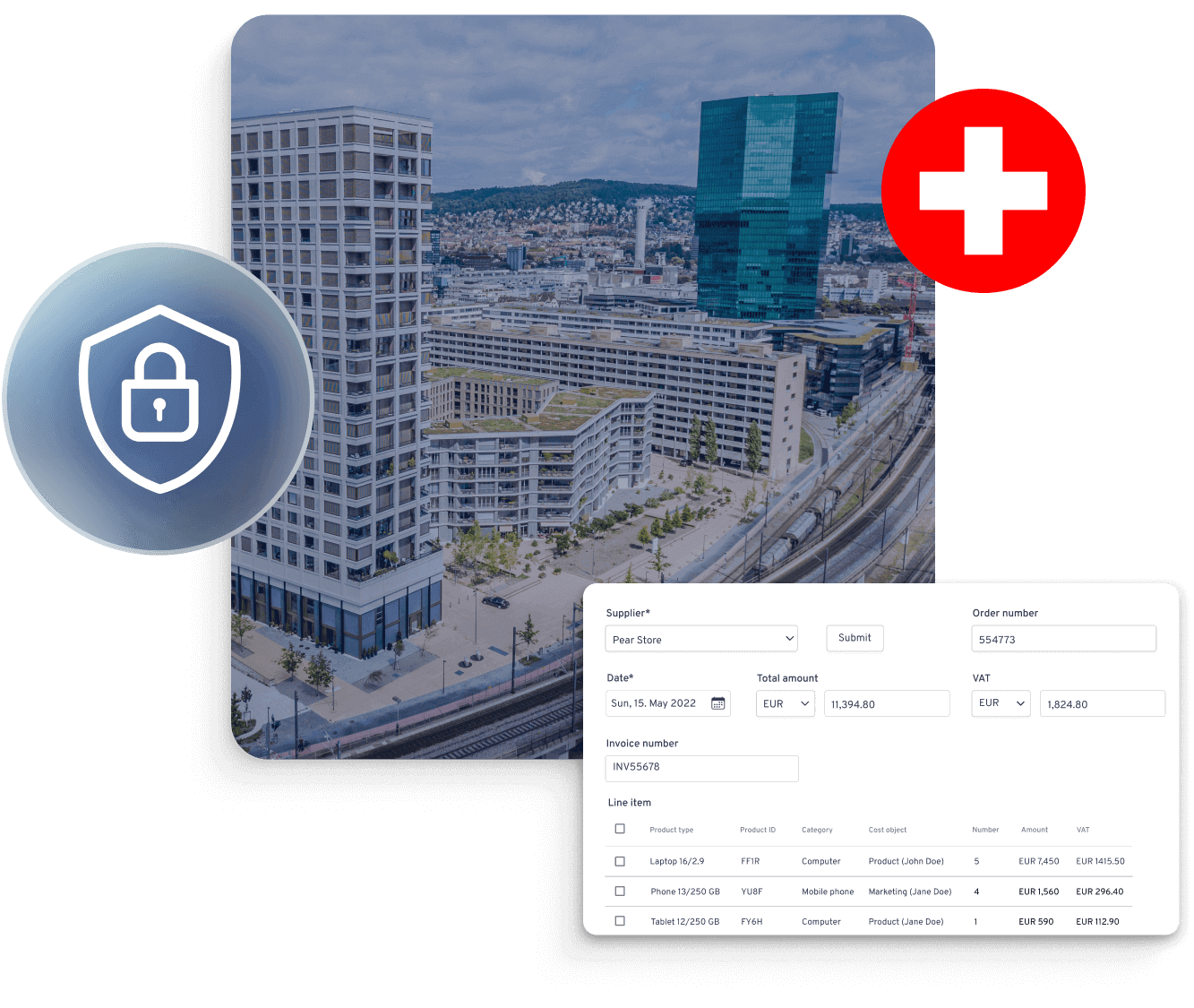 Cross-platform compatibility: Choose software that offers cross-platform compatibility, ensuring that it works seamlessly on both iOS and Android devices, accommodating the diverse preferences of your finance team.
Mobile app: Look for a dedicated mobile app that provides a user-friendly interface optimized for smartphones and tablets, making it easy for users to access and interact with invoice data while on the go.
Real-time analytics and reporting
Requirement
Real-time insights are essential for decision-making. Look for software that offers robust analytics and reporting features, enabling you to gain visibility into spending patterns and identify areas for cost savings.
Dashboard with custom widgets: Seek software with customizable dashboards featuring widgets that display real-time key performance indicators (KPIs) relevant to your business. This allows you to monitor critical metrics at a glance.
Advanced reporting tools: Opt for software that provides advanced reporting tools, including ad-hoc reporting, data visualization, and the ability to create custom reports. This empowers finance professionals to dive deep into data for actionable insights.
Scheduled reports: Look for the ability to schedule automated reports, ensuring that you receive timely updates on financial performance without manual intervention. This feature streamlines reporting processes and saves time.
Budget vs. actual analysis: Consider software that offers budget vs. actual analysis capabilities, enabling you to compare planned budgets with actual spending in real-time, facilitating cost control and budget optimization.
Cloud-based accessibility
Requirement
In today's digital landscape, cloud-based accessibility is a key consideration. Cloud-based software offers the advantage of remote access, scalability, and automatic updates without the need for on-premises infrastructure.
Cloud deployment options: Ensure that the software provides cloud deployment options, offering flexibility and scalability to match your organization's needs.
Security protocols: Verify that the software adheres to robust security protocols, including data encryption, access controls, and regular security audits, to protect sensitive financial data stored in the cloud.
Automatic updates: Choose a cloud-based solution that offers automatic updates to ensure that your software remains current with the latest features and security patches without manual intervention.
Nice to have: Vendor portal
Requirement
A vendor portal can enhance collaboration with suppliers. Seek software that provides a portal where vendors can submit invoices, track payment statuses, and communicate seamlessly with your finance team.
Self-service portal: Choose a software provider that offers a self-service portal for vendors, allowing them to submit invoices electronically, check the status of their invoices, and access payment history without needing to contact your finance team.
Invoice submission validation: Ensure that the portal includes validation checks for invoice submissions, helping vendors adhere to your invoice requirements and reducing errors in the invoicing process.
Payment tracking: Seek a portal that provides real-time payment tracking, allowing vendors to monitor when payments are initiated and providing transparency into the payment process, fostering trust and collaboration.
Best invoice management platforms for global enterprises ​
Now that you know what to look for in an invoice management tool, let's see some recommendations that fit the needs of global enterprises. 
As already shown above, Yokoy is a game-changer, harnessing AI to automate the entire invoice management flow, from invoice capture to approval, payment, and booking to the ERP system. 
The platform relies on OCR and AI to read invoices in all formats, and can handle multiple currencies and languages, making it ideal for complex international setups. 
Yokoy offers functionalities such as: 
Automated invoice capture
Support for e-invoicing
Automated invoice data structuring for ERP integration and end-to-end AP automation
Invoice processing powered by AI and automation
Automated matching of invoices with POs and goods receipts 
Custom workflows and pre-approval flows
Automated fraud and duplicate detection
Compliance with company policies and local and international regulations 
Automated posting to ERP systems for simplified bookkeeping
API integration with procurement and accounting software
Streamlined vendor invoice payments
Along with invoice management, Yokoy's spend management suite offers expense management capabilities and streamlined payments through smart corporate cards. The three modules – Invoice, Expense, and Pay – come together in one powerful all-in-one suite that enables true end-to-end AP automation.
The platform offers flexible API integrations, and comes with ready-to-use integrations for ERP systems such as Oracle Netsuite, SAP, Microsoft Dynamics, Datev, Exact, and so on.
Bring your expenses, supplier invoices, and corporate card payments into one fully integrated platform, powered by AI technology.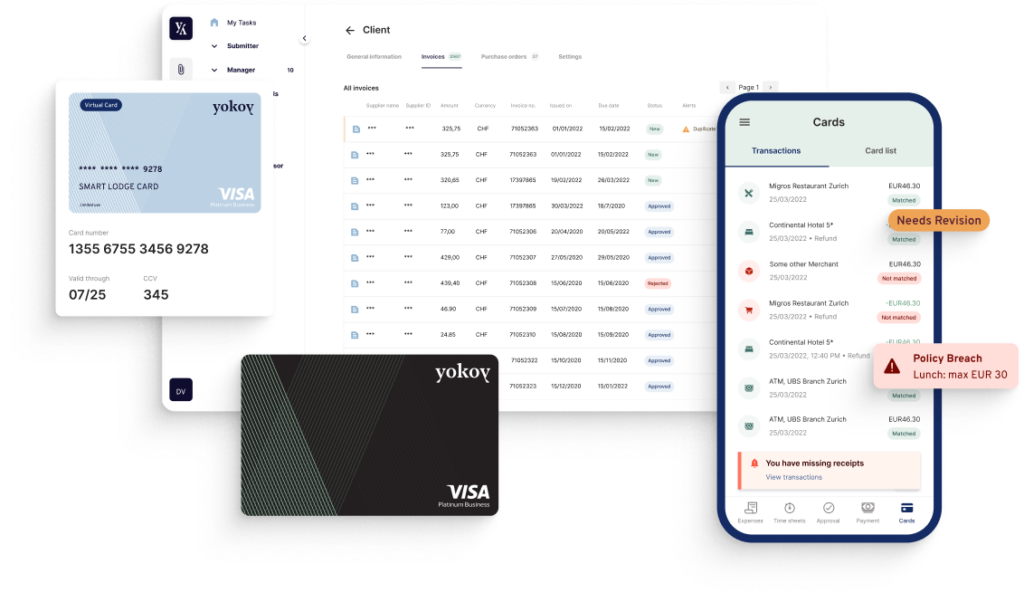 Tipalti is a one-stop solution for AP, covering everything from invoice capture to payments. It aims to free up the finance team's time and resources while strengthening controls and accelerating business visibility for scale.
It ensures compliance with tax regulations and international payment laws and supports automated matching and reconciliation, as well as a touchless invoicing process.
The platform enables large enterprises to managing global payments, reducing complexity. Also, it offers automated supplier onboarding and communication to foster better vendor relationships.
Medius links invoice capture, processing, and payment to replace the worry and wondering of managing AP with calm and confidence. The software focuses on procure-to-pay, optimizing spend across the board and minimizing compliance risks.
It offers user-friendly invoice management, reducing manual errors. The platform is built for large companies and provides access to dashboards for data-driven insights for informed decision-making. Also, it is built with scalability in mind, offering customization options and support for complex setups and AP workflows.
Coupa takes a holistic approach to spend management and combines AP, procurement, and expenses in a unified platform. The tool uses AI for data-driven decision-making and control, but doesn't offer the same capabilities that Yokoy does when it comes to AI-powered process automation. The platform enables streamlined processes and real-time visibility into global spend, as well as procurement features.
Invoice automation software is a strategic investment for global enterprises aiming to optimize their financial operations. By considering these key requirements, finance professionals can make an informed decision when selecting the right software solution.
Yokoy's spend management suite enables medium-sized and large global enterprises to fully automate their AP process for end-to-end visibility and control over business spend. 
If you'd like to see what Yokoy can do in practice, you can book a demo below.
Process invoices automatically
Streamline your accounts payable process to manage invoices at scale and pay suppliers on time with Yokoy's AI-powered invoice management solution.
Simplify your spend management
If you enjoyed this article, you might find the resources below useful.