Efficiency Unleashed: BAWAG's Journey to Automated Expense Management
BAWAG Group AG is a publicly listed holding company headquartered in Vienna, Austria, serving 2.1 million retail, small business, corporate, real estate and public sector customers across Austria, Germany, Switzerland, Netherlands, Western Europe, and the United States.
The Group operates under various brands and across multiple channels offering comprehensive savings, payment, lending, leasing, investment, building society, factoring and insurance products and services. The goal is to deliver simple, transparent, and affordable financial products and services that our customers need.
Challenge: Expense management – done manually
While a digital approach to banking is a cornerstone of corporate awareness and longevity, BAWAG Finance leaders knew that internal administrative processes like T&E also needed modern tools to achieve sustainable productivity gains and ensure operational excellence.
With manual and increasingly siloed expense management processes, BAWAG sought an automated end-to-end process that would remove error-prone manual work from the equation and keep stakeholders connected like never before.
Solution: Automating expenses with AI
When looking for the best spend management solution, BAWAG had a host of requirements to set the tone for considering their options.
After intensive evaluation, the decision was made to use Yokoy's AI-based expense management solution, which would not only automate BAWAG's financial processes, but also streamline them.
Software implementation processes can be notoriously complex and heavy-going at the best of times, but the BAWAG team felt that Yokoy's customer success team made great efforts to ensure that all stakeholders felt heard, supported, and kept up to speed during the implementation process.
At the beginning of the collaboration, the BAWAG Finance team helped kick off the project by identifying where processes were most inefficient due to outdated systems.
Impact: Efficiency from end to end
The result? BAWAG employees are no longer slowed down by outdated and inadequate tooling; instead, they're equipped and empowered to let go of cumbersome, manual tasks and do more of what they're good at.
Today, the Finance team manages travel costs and expenses efficiently and at high speed, with total control over processes, and full of visibility over approval steps, without ever having to compromise on quality and precision.
Yokoy Expense integrates seamlessly with BAWAG's existing tools and cleverly connects formerly disjointed workflows into a single automated end-to-end process.
BAWAG's Finance team has attained an advanced level of process automation by leveraging the tool. They've not only streamlined workflows and modernized their tech stack but also harnessed Yokoy ́s AI capabilities to elevate and refine their financial management practices. 
And employees? They can now process their expenses in seconds with little to no effort via their smartphone and get reimbursed quickly with zero fuss. That means they, too, spend less time on administrative tasks and have more time to attend to BAWAG's execution on their strategy.
Bring your expenses, supplier invoices, and corporate card payments into one fully integrated platform, powered by AI technology.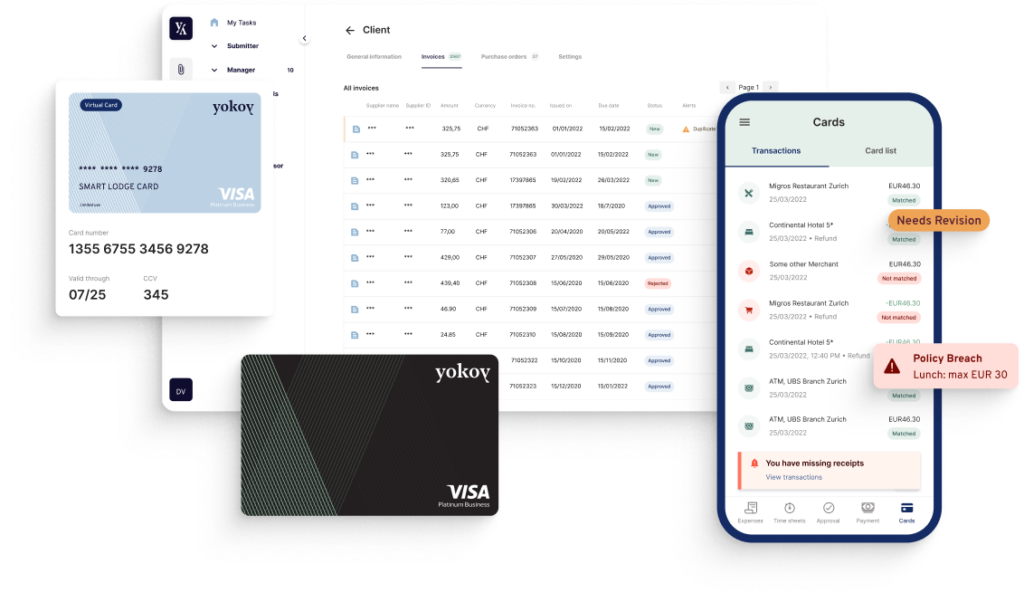 Experience Yokoy first hand