Company Cards: Prepaid, Debit or Credit Card – Which is the Best?
Employees have to dip into their own pockets to pay expenses? Billing drags on endlessly? The finance department once again has to chase after everyone just to end up with a handful of crumpled, unreadable receipts? 
All of this speaks in favor of providing employees with a business credit card, but which is the safest, cheapest and most flexible option?
Nowadays, it is advisable to equip not only field staff with company cards, but also all those who bill expenses. This could well be the whole team: software subscriptions, business lunches and maybe even home office equipment are paid for with company money. 
With all this, it's important for the company to keep track of the payments. Some cards are better suited as corporate cards than others.
The debit card is the most popular means of payment in the private sector. The difference to the credit card lies in the method of debiting: the debit card takes bookings directly from the bank account and debits the account promptly, while the credit card does that at regular intervals, for instance once a month.
Debit cards are only suitable for corporate cards to a limited extent, because the classic Maestro debit cards are rarely used for online payments, which is needed for flights or software subscriptions.
On the other hand, the risk of fraud is very low as the available budgets are pre-approved, and transactions can be tracked in real time.
Pros:
Simplified expense tracking with real-time transaction records.
Real-time control with spending limits and category restrictions.
Reduced reconciliation efforts compared to credit cards.
No interest charges, leading to cost savings.
No need for a personal guarantee.
Cons:
Lack of a line of credit, requiring sufficient funds in the associated account.
Limited or no rewards or cashback incentives.
Liability concerns in the event of fraud or unauthorized transactions.
Potential for limited reporting capabilities.
May not offer the same level of purchase protection as credit cards.
Bitpanda relies on Yokoy's smart corporate cards
"We chose the Yokoy card as our corporate card because thanks to the zero-fee model, we not only enjoy the ideal solution on the cost side, but at the same time it allows us to avoid a lot of manual administrative work as well as making our spend management much clearer and more efficient."
Peter Grausgruber, former CFO Bitpanda
The business credit card is widely known. It is very convenient, because employees can make payments both on-site and online. They are also often used to confirm reservations. 
However, they carry a higher risk of fraud than debit or prepaid cards, not only by third parties, but also by their own employees. Another negative point is the monthly billing, the time delay makes reclaiming private expenses costly and cumbersome.
Pros:
Access to a line of credit for business expenses.
Ability to earn rewards or cashback on company spending.
Enhanced reporting and expense management features.
Improved cash flow management for businesses.
Some cards offer additional travel and purchase protection.
Cons:
Potential for interest charges on outstanding balances.
Risk of employee misuse or overspending.
May require a personal guarantee from business owners.
Application and approval processes can be time-consuming.
Annual fees and interest rates may vary.
The prepaid card, for example the Yokoy Mastercard, is the intelligent company card. It combines the advantages of the debit card with those of the credit card. The issuers Mastercard and Visa are recognized worldwide.
With prepaid cards, all payments can be made exactly like with a credit card. In addition, companies can set precise budgets and thus massively limit the risk of fraud. If a card is linked to a fully automated spend management solution, transactions can even be seen in real time. Billing then becomes a breeze.
The smart prepaid card is therefore the best alternative to debit and credit cards.
Pros:
No need for a bank account or credit check for approval.
Enhanced control over spending, making it ideal for budgeting.
Reduced risk of overspending, as funds are preloaded.
May offer reporting and expense management features.
Can be used for specific spending purposes, like travel or employee expenses.
Cons:
No access to credit, potentially limiting flexibility for larger expenses.
May have fees, including setup, reload, and maintenance charges.
Limited or no rewards or cashback programs.
Reduced purchase protection compared to credit cards.
Not suitable for building business credit.
More and more companies are turning to virtual cards (also called disposable or sometimes even throwaway cards) for business payments. For payments on the Internet, this is a secure and practical alternative. The relevant card details are then simply displayed for the payment, without a physical card having to be issued.
Companies can either use virtual cards for specific payments or authorize certain people to use them. In both cases, the company can decide on restrictions, such as the validity period, spending limit or location and period of use. 
How Virtual Corporate Cards Boost Expense Control and Limit Discretionary Spending
What challenges virtual corporate cards solve, what are their benefits, and why are virtual cards the perfect solution for limiting discretionary spending?
Lars Mangelsdorf, 
Co-founder and CCO
Yokoy offers both virtual and physical cards to give users the greatest possible flexibility. Our cards are "smart", as they are fully integrated into our spend management software, becoming true digital tools. 
But how are smart corporate cards different from regular company cards? 
Yokoy Smart Corporate Cards
Simplify your card administration and gain real-time visibility and control over your global spend with Yokoy's Smart Corporate Cards.
Smart corporate cards empower businesses with heightened transparency and control over their employees' spending. By displaying transactions and card activities on a user-friendly dashboard in real-time, companies can closely monitor spending behavior. This level of visibility enables finance teams to swiftly identify any unauthorized or non-compliant expenses and promptly address them.
Moreover, smart corporate cards provide the flexibility to set specific spending limits for employees, determining the amount, locations, and timing of expenditures. This granular control allows businesses to maintain a tight grip on their budgets, curbing overspending and ensuring financial discipline throughout the organization.
With these advanced features, smart corporate cards become valuable tools for enhancing financial management and optimizing expenditure control.
You can learn more about Yokoy's smart cards for employees below.
Why You Need Smart Company Cards
Smart company cards are increasingly surpassing the classic corporate credit card. But what advantages do smart company cards offer? And how can you benefit from them in practice?
Challenges solved by smart corporate cards
Smart corporate cards offer several benefits over traditional corporate cards, thanks to their advanced features and capabilities. 
At its core, a smart corporate card functions like a traditional corporate card, enabling users to make payments using debit, credit, or prepaid methods. However, what sets smart corporate cards apart is their integration with financial software and the provision of data-driven insights.
In essence, a smart corporate card represents a contemporary upgrade to conventional corporate credit cards, offering a host of advanced features and capabilities.
These enhancements encompass improved security measures, stringent control options, real-time expense tracking and management, automated accounting and reporting, and a seamless user experience for cardholders.
Smart corporate cards utilize advanced security features like tokenization and biometric authentication to reduce the risk of fraudulent transactions, providing enhanced protection against unauthorized use.
Real-time expense management
With integration into financial software, smart corporate cards offer real-time updates on transactions, enabling companies to monitor and manage expenses more effectively as they occur.
For example, Yokoy's smart corporate cards integrated fully into the spend management suite, enabling the finance department to track transactions in real time and match them with expenses automatically. 
Automated accounting and reporting
Smart corporate cards automate the categorization of expenses and generate detailed reports, simplifying the accounting process and reducing the likelihood of errors in financial reporting.
Businesses can set customized spending limits on smart corporate cards for specific payments, employees, or departments, ensuring better control over company spending and budget management.
Planted keeps spend under control with Yokoy
"A corporate card should be secure and uncomplicated – and this is exactly what the Yokoy Mastercard offers. In addition, the card is smart, saving us significant time."
Christoph Jenny, Co-founder Planted
Through the use of machine learning and data analytics, smart corporate cards provide valuable insights into spending patterns and trends, allowing businesses to make data-driven decisions for optimizing financial strategies.
Smart corporate cards are designed with a user-friendly interface, providing a seamless experience for cardholders and improving employee satisfaction in managing expenses.
Many smart corporate cards come with mobile apps, allowing cardholders to access their accounts, track expenses, and manage their cards on-the-go, increasing convenience and accessibility.
By addressing these challenges, smart corporate cards empower businesses to manage their finances more efficiently, reduce fraud risk, and gain valuable insights for better financial decision-making.
In conclusion, smart company cards offer a transformative solution to the challenges faced by businesses in managing their financial processes. 
With enhanced security measures, real-time expense management, automated accounting, and data-driven insights, these modern cards streamline operations and provide valuable advantages beyond traditional corporate cards.
To experience the full potential of smart corporate cards and witness the positive impact they can have on your organization, we invite you to book a demo below.
Bring your expenses, supplier invoices, and corporate card payments into one fully integrated platform, powered by AI technology.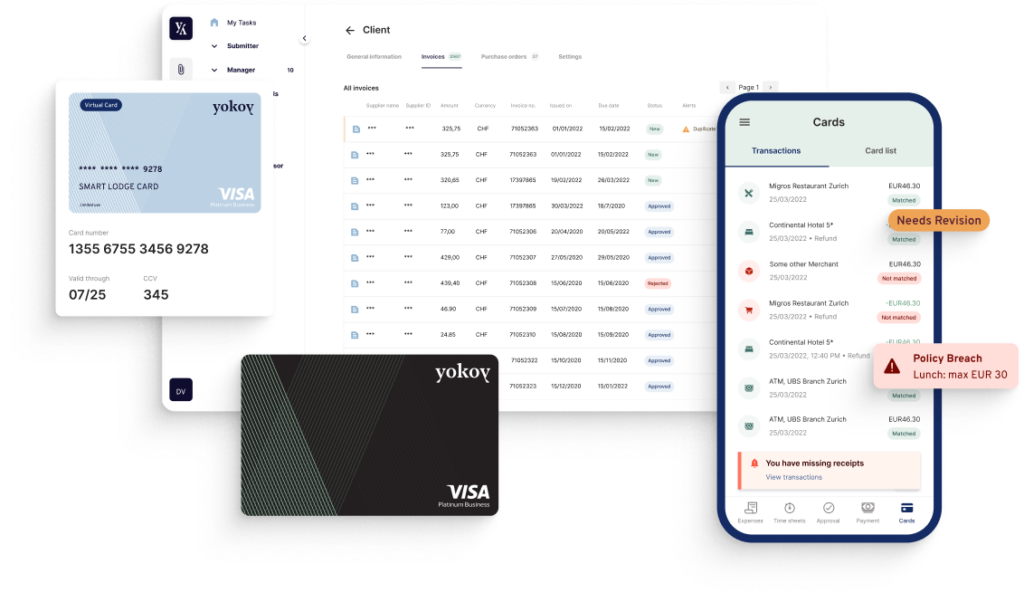 Simplify your spend management
If you enjoyed this article, you might find the resources below useful.